Secure Cash is a one stop cash in transit agency that will manage your banking & change order services no matter where you are located in Australia.
Using our industry leading software technology unique to only SecureCash, we are able to track & trace your deposit with a click of a button.

You can have your banking collected on any day or days you choose, & you are free to cancel or change the days your banking is collected when ever you want.
We work with most major banks in Australia including the NAB, Commonwealth Bank, ANZ, Westpac & some local banks such as BankSA & Bendigo Bank.

We do not lock you into lengthy contracts, so you are free to try our service & if you find that it is not suitable for your organisation then you are free to cancel at anytime with notice.



OUR CASH IN TRANSIT SERVICES
Do you need cash in transit services? Secure Cash specialises in picking up your money and banking it. Wherever you are, anywhere in Australia, any time of the day or night, seven days a week, we can collect your takings and deposit them at your bank. Whether you need cash collection, cash counting, or cash delivery, Secure Cash has got you covered.

What cash in transit service does your business need? As one of the largest and most respected cash logistics companies in Australia, Secure Cash can serve your specific needs, we provide:

Cash Collection Services: Our plain clothes staff will visit your premises at an agreed time, pick up and secure your takings, drive them to your bank in one of our unmarked vehicles and deposit them in your account. At a later time, we will deliver the bank deposit records back to your office. We call this our "Banking Courier Service" and we can collect your cash takings (including cheques) any hour or any day or night. That includes weekends and public holidays because our number one priority is ensuring the cash security of our clients.

Cash Delivery Services: When you want cash delivered to your organisation, just order our cash delivery service. We call it a "Change Order Service" because often our clients are ordering small change to meets their trading needs. So we pick up the needed amount of change, in whatever denominations you specify, and deliver it to the agreed address at the agreed time.

Cash Counting Services: If you don't want your staff to have to deal with counting the takings, our cash counting service can assist. We collect your cash and count it before depositing it into your bank account.



SO, WHY CHOOSE SECURE CASH?

For one reason: We have been established for over
25 years
, since 1991 to be exact!

Plain clothes: Our couriers do not wear security uniforms. This is so they blend in with the crowd. It is to avoid drawing any attention to your business (or your staff or your customers) during the cash handling process. Unmarked vehicles: The same concern underpins our decision to use regular-looking vehicles. To draw no attention to your business activities.

No contracts: Our focus is on delivering a reliable cash courier service that is affordably priced. We do not feel we need to lock our clients into contracts. So you can contact us on an "as required" basis, you can cancel anytime with notice, or you can establish a regular schedule if you find our service works well for you. We think it will, by the way.

Australia Wide: Coast to coast, anywhere in Australia, we've got your cash security needs covered. With branches in Adelaide, Brisbane, Canberra, Melbourne, Perth, and Sydney and a network of licensed contractors covering the rest of the country, you can rely on Secure Cash to get the job done.

Anytime: We don't keep "office hours" because many of our clients don't either. Whatever you need, whenever you need it, we'll be there for you. After hours and public holidays included. Online bookings: You can use our website to manage your cash courier needs, 24x7. Make a booking, adjust your booking, cancel your booking. Do it all via your secure login at our website. Or you can phone us.

Verify our couriers: There is one feature of our website we want to be sure you know about. Anytime you want to, you can login to verify the ID of our banking courier who is handling your cash. It's all about giving you, our valued clients, peace of mind.


Your peace of mind: We want you to know you can trust us as we are an Australian owned and operated business.
Affordable: We don't pay for expensive media advertising campaigns. And that helps us keep our pricing realistic. Phone us today to discuss your needs and learn how affordable our services are.


We are specialists: As a national courier company, we do one thing, and we do it well. We do "cash in transit" - with all its permutations. Whatever your particular need, give us a call.

Special events: If your group is running a fundraiser or a fete or some other function that involves cash, you will be pleased to know you can order our service on a one-time basis. Tell us how much cash you need to be delivered before the big event, and tell us the closing time, and we'll be there to take care of you.
GIVE US A CALL TODAY!

We look forward to hearing from you to discuss the particular details of your cash in transit needs. Our number is 1300 364 569.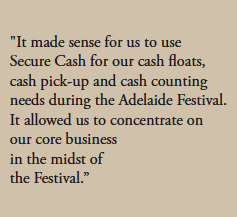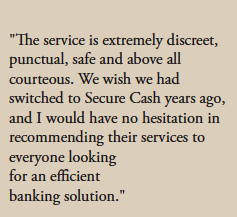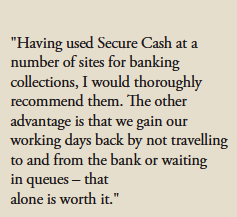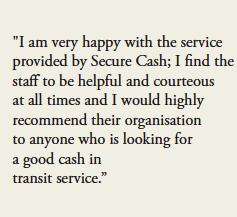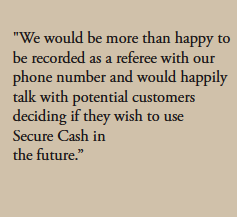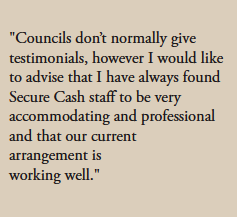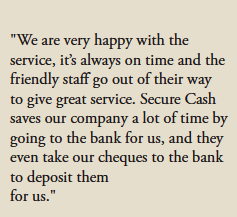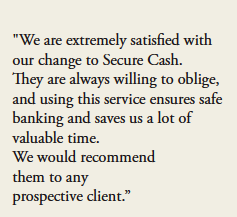 * Original customer testimonial available upon request.