If there's anything at all you need to know about the SecureCash Head Office, it's that we like to have fun. There are so many things that we do together, after hours, in different groups or teams, but inside the office, during business hours, we still like a laugh.
As soon as a particular Manager hears about your greatest fear, there will be small, rubber or plastic ones in your desk, or under your chair… you will see them everywhere. One of our former colleagues was basically hooked into the 'net and would immediately produce a meme or video that encapsulated whatever had been said or typed.
And we all Uber Friday. We have had office spaces that had very little nearby for choices for lunch. So one day, one of us Ubered lunch and that was that. Every Friday, everyone Ubers their lunch. It might not all even be at the same time, but we invariably have lunch delivered no matter what else is going on at work that day. If you don't order, wow! You are persona non grata for the afternoon. Just kidding! We will only talk laughingly about the person who used to be one of us and has now betrayed us.
There have been competitions to see who's order was delivered first if multiple people ordered at the same time. Everyone sits and deliberates for the longest time about what they feel like eating that day. But as soon as the order button is hit, that's it. Everyone is informed of everyone else placing the order and that is our sole focus until everyone has ordered lunch.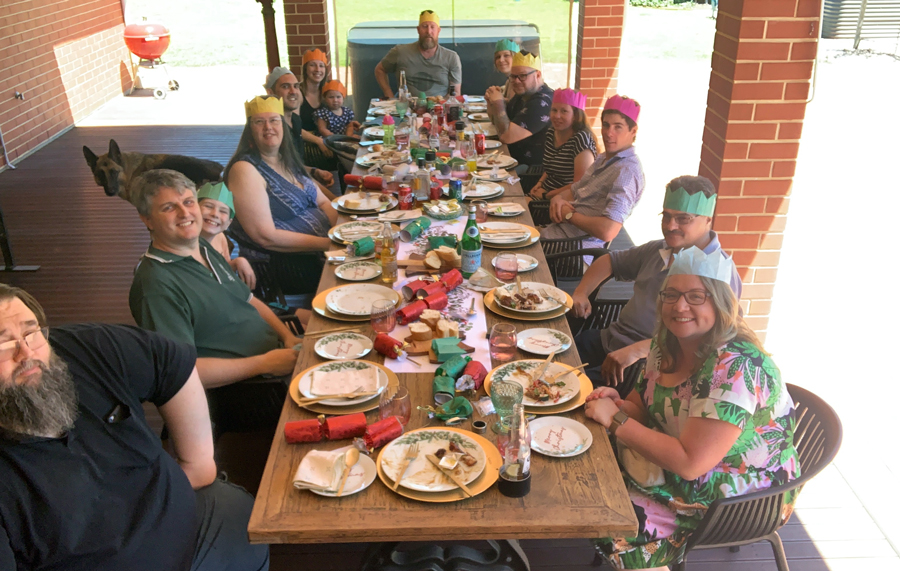 There have been rating systems in place so you can see what local restaurants others had enjoyed and recommended to each other. We moved offices recently and didn't know many of the local food establishments. A spreadsheet was set up, access given to everyone, and now we rate the food delivered, as well as comment on what in particular we liked about it.
Until we moved offices, we BBQ'd on Wednesdays. No particular reason, but everyone brought along something to contribute, and we enjoyed a joint lunch together. If you didn't or couldn't bring anything, you were cooking or cleaning up. Everyone pitched in so we could enjoy it all together.
Aside from physically being together and having joint lunches throughout the week, we talk often on Messenger. If we are out and about and see something we know another member collects or is quite interested in, we send a link or post a picture. We have Facebook groups as well and will post in those frequently. We use Hangouts at work, and this will also spill over into after hours conversations.
Everyone is quite aware of who has children, and of what age, whether they are busy or away, and we know if we expect not to hear back from someone if we post. No one gets offended that a certain person doesn't reply or joke back.
We have pets in the office. Often. Every Tuesday a particular Staffie visited us and hung out for the day. If we work from our business owner's house, there is a German Shepherd, an Akita and a Siamese that keep us company.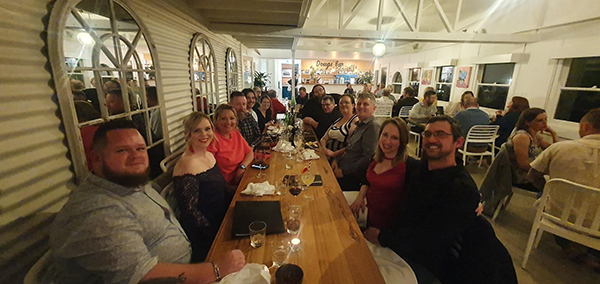 I've lost count of the times we've helped each other out. Whether it's advice, an ear to listen, a sounding board required, or more severe times and helped find lost pets. If you need a contact somewhere, or want a reference, once you mention anything to the team, whoever can help will pipe up.
That's all aside from the help we give each other at work. We will always step up when someone is unsure how to proceed, or if we have experience with something that our colleague is learning. If it comes to massive, important jobs, we break up the tasks into manageable chunks and all take part.
Being friends after hours means we are all comfortable leaning on each other at work. We know how best to support each other, and we know what everyone is going through. So if their workload increases and we know they just aren't quite there themselves, we jump in. At any time if anyone takes leave or is unwell, there are so many of us that can cross over to their role and look after their team. The other employees are all used to us all anyway, and we can manage whichever team needs us at the time.
It's tricky balancing friendships at work, but we've employed the right people. We can still take direction, and we work hard, but we know when to draw the line and when to be relaxed instead of professional. There's so much psychology to working in an office!